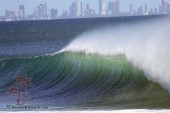 The swell keeps hanging around… It seems like the waves havent got under 3 feet for over 2 months now.
There were great waves over the weekend . I didnt pick up the camera on the weekend but had a great surf at Duranbah and surprised myself by picking up a few nice peaks in the school holiday crowd.
Shaun Harington was out there ripping on an old brown board. I saw him on one wave, backdoor the peak taking off pigdogging goofy (switchfoot) and then switch foot back, while in the tube and come sailing out in his normal stance … natural. Nice move Hazza!!
That one wave had me wishing I had my water rig out there…
Monday,this morning a brand new swell arrived this from the south.
Along with it came 20 knot winds.
I got down there pretty early, to check it out. Its been a while since Ive shot anything from the water so I was pretty keen to go for a swim. Unfortunately the conditions were less than ideal for water shots.
Duranbah was huge and out of control…The wind was howling offshore and the sweep was horrendous.
Shooting from the water is always a hit and miss situation and the odds were I would only score a few good ones with a 2 hour swim, so I opted for land based photos.
I shot 200-300 pics (the beauty of digital) These are the pick of them. If you see a photo of yourself here, or you were out surfing I may have a photo of you. If you think this is the case then contact me by clicking here.