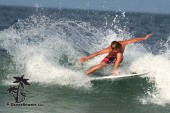 Surfing Photography is really a lot like surfing. It takes a lot for the conditions to come together , but when they do it can be very rewarding.
For the last few days Ive been covering the  Rip Curl Kirra Teams Challenge.
Yesterday the conditions were less than desirable all day, but as everyone was packing up . I noticed the sun had come out and was lighting up the surf with a nice warm light.
I spotted young local Jack Freestone smashing a few lips so I grabbed my gear and headed down there.
The waves were pretty much the only fault with shooting conditions .
I was using my trusty Canon Eos 30D and my favourite lens Canon EF L series 400mm F5.6
the thing I love about this lens is that it is light enough to hand hold and gives you a wopping 640mm focal length with the 30D.
All of these shots were taken hand held with this gear ..As you can see the images are tack sharp.
Hope you like them
cheers
Dan