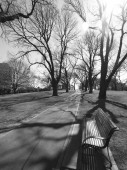 So what do you do in Melbourne , when youre there for the weekend , youve got the flu and you dont really feel like leaving the hotel room…..
Well… what I did, I jumped on the fee city circle tram and did a few laps of the CBD …. jumping off the tram every time I saw something I thought looked interesting enough to photograph!!
Funnily enough my thoughts of what Melbourne was like previously all were images of a rain soaked town.
But the weather on the weekend was absolutely fantastic and sunny….
I tried to put a little artistic value in to some of the pics by converting them to Black and white.
Except for the shots of Queen Victoria markets where I felt the photo's may have lost a little if they werent in colour..