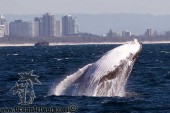 Its been another beautiful week of weather, here on the Gold Coast.
Its a pity I had to spend most of it in front of the computer working.
On Monday I managed to get some time out to go out on the 'Whale Watcher'  a local Charter boat in Tweed Heads.
There was plenty of whale action and even a very new calf … that was possibly only a few days old.
Here's a  few of the best shots from the day.
You can see more of the photos from the day by clicking here