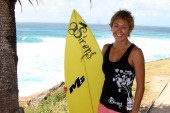 'Sirens of the Sea' is a  brand new clothing label from Pro surfer Samantha Cornish and her partner Kate.
Ive been working on surf shots with Sam a bit this year.
So when she rang me late last week and asked if I could come up to North Stradbroke to get a few shots of her new designs. I thought why not??
Sam and Kate had lined up 3 beautiful local girls Ella, Josie and Stacey for the shoot.
As well as being lookers, these girls are all hot surfers..
These tops and hoodies are just the beginning of what the girls are hoping will be a much larger range in the future.
Their website and official launch of the brand will be in the next few months.