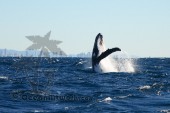 The Whale Watching Season is upon us again on the Gold Coast…. It seems that the population of Humpback Whales grows much larger every year.
Tony and Carol Hunt of Aqautic Blue Charters are old hands at the 'whale watching' Experience, having worked out of Port Macqaurie for many years.
With there new boat the 'Whale Watcher' now based out of Tweed Heads on the Southern Gold Coast, Tony and Carol are bringing people closer to those magnificent animals of the Ocean………………The Humpback whales.
I was lucky enough to go along on one of their charters recently and scored some great shots.