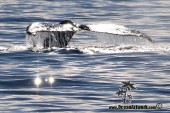 Migaloo the only completely white Humpback whale in existence recently made an appearance off the Gold Coast. And I was lucky enough to get a few shots of him!!
I first heard about Migaloo from Tony and Carol Hunt of Aquatic Blue Charters, a Whale Watching charter boat based in the Tweed Heads / Coolangatta area. they had actually come in contact with this amazing animal when they were working out of Port Macquarie in 2005.
Carol gets pretty excited when she sees any humpback whale. So she was ecstatic when she heard that Migaloo was spotted off Port Macquarie on Sunday the 28th June.
According to Tony and Carols calculations that meant Migaloo would be off the Gold Coast around Tuesday or Wednesday.
They were pretty much spot on because the 'big white fella' (aboriginal meaning for Migaloo) was spotted off Evans Head on Monday then again off Ballina late Tuesday afternoon.
I was out on the Whale watching charter with them on Tuesday morning and got some nice tail photos of several humpbacks cruising north in very glassy windless conditions.
When we heard that evening that Migaloo was off Ballina, we were a little concerned that he may have passed during the night. And we would miss him.
And sure enough there were reports the next morning that he had been spotted off Moreton Island up north.
By now I was beginning to understand how Captain Ahab felt when he was chasing the elusive 'Moby Dick'
Wednesday morning we headed out with a full charter of about 40 people .
The weather was the complete opposite of the day before choppy, windy and crossing the Tweed Bar was a bit like a Theme Park ride!!.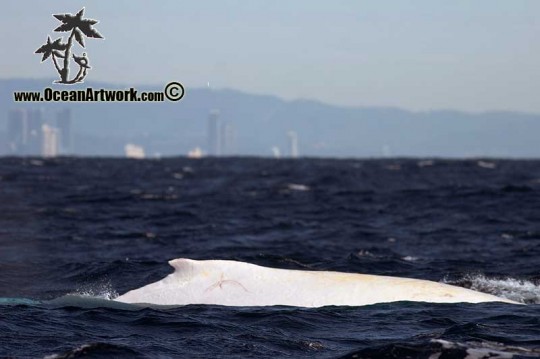 We spotted a pod of whales not far off the coast, but with all the bouncing around from the northerly wind swell … it was a nightmare trying to get photos.
Then we got a call on the radio from Mal of Fingal Charters that he was following Migaloo about 10 nautical miles off the coast.
We headed out there and I managed to get a few shots.
Migaloo is truly an amazing whale to see. He is completely and totally white.
I just wish he had been a little more active .
The photos below are from the 30th June and 1st of July 2009.
Many thanks to Tony and Carol of Aquatic Blue Charters Whale watching for getting me out there.